BIOGRAPHY: NORBERT SCHRAMM
OLYMPIC FIGURE SKATER, SHOW STAR AND ARTIST
He is Germany's most prominent and innovative male figure skater of the last 50 years. Today he is a much sought-after people photographer based in Germany. Besides having been a top Olympic ice skater he was European Champion twice, winning three gold medals in free skating, winning the silver medal twice in the World Championships as well as being a multiple German champion. He was breaking new territory in figure skating as one of the most famous German sports stars. "Norbert Schramm is the trendsetter of the 1980's", said Toller Cranston, a World Figure Skating Hall of Famer,"it is his artistry and incredible athletic ability paired with a sense of humor. That is something I've never seen in any other skater before." His phenomenal popularity caused him to be a constant presence in the media and as a result 87% of Germany's population were familiar with him. For his excellent achievements the German government awarded him with the "Silbernes Lorbeerblatt" ("the Silver Laurel"), the highest sports award in Germany.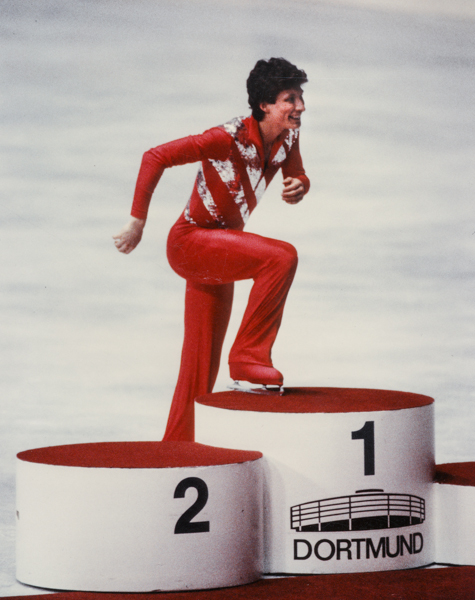 Norbert Schramm wins his second titel as European Champion, Dortmund 1983
.
KNOWN FOR HIS INNOVATIONS IN THE SKATING WORLD
Already as a young skater Norbert Schramm was loved because of his own unique style, charisma and show talent. He combined exciting musical choices with unusual choreographies, extraordinary spins and more triple jumps than any other skater at the time, that he performed with a dare devil attitude. Soon Norbert Schramm was known in the United States as the "Steve Martin of the ice" who brought innovations to the ice skating world by constantly re-inventing himself.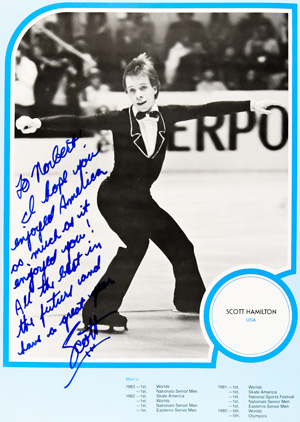 ICE LEGEND SCOTT HAMILTON'S BIGGEST RIVAL
With his bright red costumes, superior performance and crowd pleasing panache, Norbert Schramm was considered a threat to Scott Hamilton. In the time span from late 1980 leading up to the 1984 Winter Olympics in Sarajevo, Norbert Schramm won a medal in every single competition he participated in. The only exception being the 1981 World Championships in Hartford, Connecticut in which Scott Hamilton won his first world title. The same year he was the first German skater who won a gold medal at SKATE CANADA, Ottawa where he beat future Olympic medalists Brian Orser and Jozef Sabovčík. In 1983 Norbert Schramm was featured on Tom Collins "World Figure Skating Tour" throughout all major cities of the United States.
"To Norbert I hope you enjoyed America as much as it enjoyed you! All the best in the future and have a great year" Scott Hamilton, World Figure Skating Tour 1983
Known as "Artist on the Ice" a very popular hard cover book by the same title was published in Germany in 1983. After the Olympic season of 1984 Norbert Schramm turned professional and became a client of the agency giant IMG (International Management Group) who represented him for several years. Soon he was offered a lucrative contract as the star of the German Ice Theatre. Only the most elite and spectacular ice skaters get to sign such contracts. In 1985 he became the star of the famous ice revue "HOLIDAY ON ICE". For nine seasons he starred and entertained audiences in over 1700 shows with "HOLIDAY ON ICE" in all of Europe.
WORLD PROFESSIONAL CHAMPIONSHIPS
For four years (from 1984-1987), Norbert Schramm performed with Scott Hamilton, Toller Cranston and Robin Cousins at the NutraSweet World Professional Championships in Landover, MD, hosted by Dick Button (ABC television). He was one of the few skaters who did spectacular back flips on the Ice. Journalists gave him the title "World Best Ice Entertainer". Wherever he went, there were standing ovations. Often he would give an encore as a character he created, the ever charming and funny "TANGO FRANZ", or he would play homage to his home state of Bavaria in Lederhosen (folkloristic leather pants) with a huge beer mug that regularly had its audiences in stitches.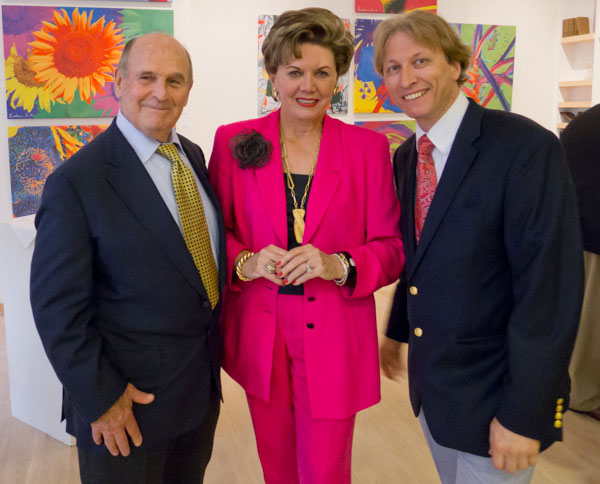 Dick Button and Norbert Schramm at Aja Vrzanova Alena Vrzáňová Steindler's Birthday party 2011 at the Bohemian National Hall in New York City.
"HIS SMILE KNOWS NO LIMITS"
THE SMILING SONNY BOY
Norbert Schramm was known for his "always smiling" attitude. A journalist once coined the phrase "his smile knows no limits". The sonny boy gained important life experiences during a large variety of tours including "THE BEST OF TORVILL AND DEAN". The professional show star entertained millions of people worldwide live and on television. One of his favorite presentations was Toller Cranston's TV Christmas special, "The True Gift of Chistmas". Together with Toller Cranston and Robin Cousins, Norbert Schramm portrayed one of the THREE KINGS, also featuring Jojo Starbuck, Ken Shelly, Kitty and Peter Carruthers, this was filmed in Toronto.
THE HAPPY INNOVATOR IN BUSINESS
Because of his insatiable thirst for knowledge Norbert Schramm studied at the faculty of Economics and Business at the University of Augsburg, Germany. He went on to graduate at the University of Management and Communication in Potsdam, Berlin (PR Kolleg Berlin) in public relations. At the same time he proved to be a happy innovator in business when he opened his own company, "Happy Marketing, Sport und Freizeit GmbH" in 1991. In the fall of the same year Mr. Schramm organized and took part in his own production "The Happy Ice Show". In 1992 he developed an Ice Skating Concept of the European Arenas Association (EAA). In 1993 he was part of the Organizing Committee for the "Ice Hockey World Championships" in Germany. His passion for supporting and developing new ideas by bringing people together was further manifested, when he founded the "Eagles Charity Golf Club", an international association of the most popular German speaking Film, TV and sports celebrities like soccer legend Franz Beckenbauer, tennis player Michael Stich, singers Ireen Sheer and Johnny Logan and many more. They all play golf to help people in need. In 1994 he created and organized the first "European Golf Championships for Top Athletes".
From 1993-1996 he organized the "Stars On Ice" European Tour throughout Austria, Switzerland, France, Andorra and Germany.
From 1994 until 1996 his company collaborated with OGDEN ENTERTAINMENT SERVICES. Over that time period, Mr. Schramm's HAPPY MARKETING undertook research, media evaluation, public relations and artwork as well as introductions to key individuals in business, sports and entertainment.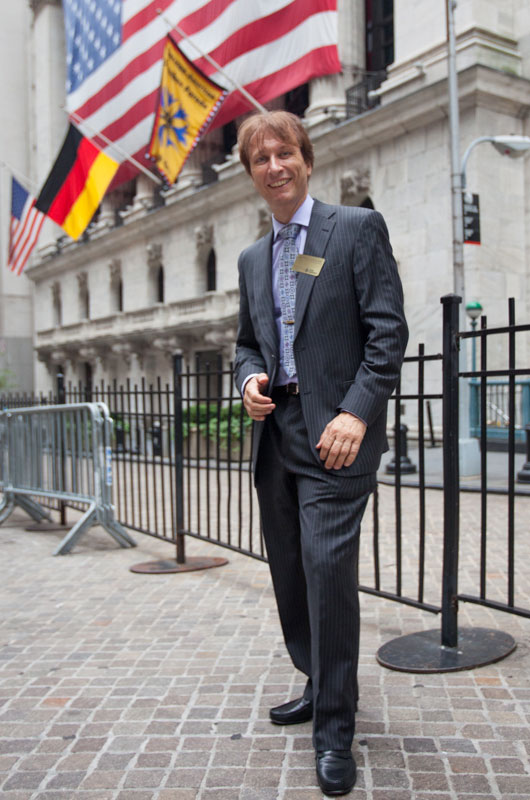 From 2010 to 2013 Norbert Schramm lived and worked in New York City
.
NORBERT SCHRAMM TODAY
In autumn 2013 Norbert Schramm moved back to Germany after he had immigrated to the US in 2011 and lived in Manhattan, NY and Hoboken, NJ. He is still now working as a people photographer.
In September 2012 he was ringing the opening bell of the New York Stock Exchange (NYSE) to promote the "55th German-American Steuben Parade" on Fifth Avenue, where he was elected as "Grand Marshal". The Steuben Parade celebrates every year the story of great immigrants, to showcase their culture and traditions.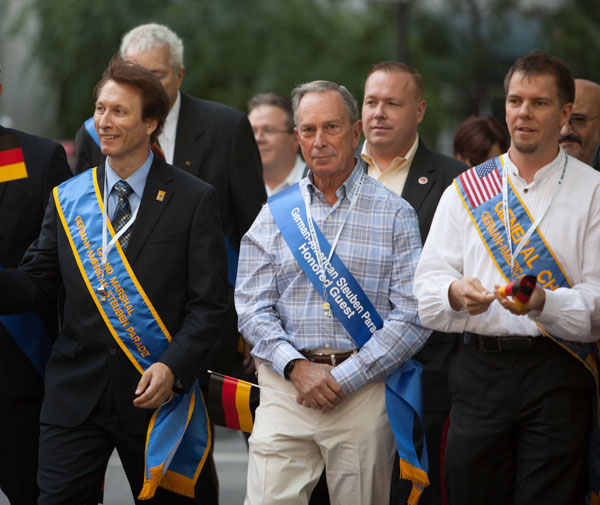 Grand Marshal Norbert Schramm, Mayor of New York City Michael R. Bloomberg and Lars Halter General Chairman of the Steuben Parade.
FINE ART IS HIS DRIVING FORCE
Norbert Schramm has loved the fine art of photography since his youth. Early on he was able to extract captivating images. He took photography classes as a teenager and had a darkroom in his own house. Being able to capture and anticipate the crucial point of taking the picture with split second timing. An aptitude, that serves him in all other areas of life too. Soon he stood out with his ability to extract stunning images that told a story. This kind of fine art is his driving force that has fascinated Norbert Schramm his whole life. His first professional jobs in this field were photographing celebrities and show business performers in action.
His unique style as a people photographer is characterized by his ability to capture emotional moments in live entertainment. These exciting moments in his photography illustrate what makes sports and show business so special.
Using this talent behind the lens, he operated as director of photography from 2010 onward all action sequences for some short films in New York.
SHARING HIS LIFE EXPERIENCES WITH CHARITY AND SEMINARS
As one of Germany's most influential sports stars, Norbert Schramm has always been a popular guest of honor in media events, with politicians and leaders of the business world. With his dare devil days behind him - from hang-gliding off of treacherous mountains for seven years, often with skis attached to his feet - to motorcycle and car racing - he now wants to give back to society. Especially people in need if it be the physically challenged, people seeking guidance and inspiration or business people- he loves to share the knowledge he gained over the years by helping with charity work and in seminars. Having traveled all over the world and experienced different cultures, he's always found his way to top achievements being open for new challenges in life.
These days he shares his wealth of knowledge by coaching people privately and in seminars to find their "own way". Norbert Schramm continues to hold lectures as a motivational speaker and life coach in his seminars titled "Following your own way- one's personal path to top achievements".
NORBERT SCHRAMM ALWAYS WALKED HIS OWN UNIQUE PATH
2007 he took a creative time out for almost two years to reflect upon his life. During that time he traveled to South America and stayed in Quito, Ecuador and Buenos Aires, Argentina. In the summer of 2008, autumn 2010 and spring 2012 he went on pilgrimages through Spain on the famous "Way of St. James" (El Camino de Santiago) to the city Santiago de Compostela. Only equipped with a backpack, he walked on foot far more than thousand miles through the Spanish landscape.
He undertook another challenge as well: in 2009 he successfully completed his first marathon.
MEDIA WORK
With more than a thousand television appearances under his belt as a guest, sports commentator and host, Norbert Schramm continues to share his expertise. Since the Winter Olympics in Lillehammer in 1994 and Salt Lake City in 2000 he has been a commentating ice skating expert for Germany's national TV broadcast channels ZDF and Premiere World.
In 2006 he contributed to the success of the hit reality show "Dancing on Ice" on the German television network RTL as head coach and consulting figure skating expert. In November 2010 he was guest star of the very popular German comedy TV show "Oliver Pocher" on SAT1 teaching the show host jumps and spins.
STILL ON ICE
Norbert Schramm was artistic director of the Europa Park Ice Shows in Rust, Germany from 2002-2007.
In recent years Norbert Schramm has been asked to produce and choreograph ice shows in different countries. He has been sharing his vast knowledge of skating as a licensed ice skating coach and works choreographically with international skaters. He has trained the Spanish national team, as well as the German national junior team.
At the same time his magnetism as performer is greater than ever. His most recent live tour was with the Russian ice spectacular "MOSCOW CIRCUS ON ICE" November 2009 until February 2010. Norbert Schramm presented the show as guest star and once again delighted the audience with solo numbers on a tour that took him through several European countries.
At Chelsea Piers in Manhattan he was still from time to time on the ice, taking classes with the cast of "Ice Theatre of New York" at Sky Rink.
2012 he was spontaneously invited to skate in Hamburg/ Germany on the frozen Alster. More than one million people joined him on the ice and enjoyed this spectacle of nature.
From 2013 to 2015 he on tour with Holiday on Ice. As MC on skates he is leading through the spectacular Ice show PLATINUM.